Overview
The Musway M4+ Amplifier Is an Outstanding Performer That Swings Value in Every Direction
Simpler and better in every way. The powerful M4+ combinds a 4 x 100/135 Watt amplifier with a killer 8 channel DSP into one elegant chassis. This greatly simplifies installation and required cables. By combining an amplifier and DSP you eliminate all RCA connections for the 4 internal channels, you eliminate the DSP to amplifier remote turn on wiring, and you eliminate the need to run a dedicated power, accessory, and ground circuits for the DSP.
Perfect for Harley
The M4+ has balanced high level inputs with load compensation that work perfectly with factory Harley radios. These amplifiers integrate seamlessly with all 2014 and later factory radios and also work perfectly with aftermarket radios as well. These amplifiers have a super wide input sensitivity and can accept all of the input signal that your radio has to offer. Integrated signal clip lights eliminate the need for any special test equipment when setting gains.
Product Description
Rock Solid PC Interface
We love the Musway software. All adjustments are made on a single screen and are very straight forward. The software runs from a single file so there is nothing to permanently install on your computer.
Available Remote Support
Never get stuck! We offer remote PC connection support for setting up your Musway M4+. So there is no need to worry about getting it right. We can check every detail for you. Windows PC and an internet connection are required.
Fitment
Drop in fit on top of radio for all 2014 and later Street Glide & Electra Glide
Light Modification Required for 2015 and later Road Glide. Headlight mounting brackets need to be shaved back slightly and then it fits nicely under the radio. Additional Velocity RZA500.2 amplifiers can then be mounted on each side of the radio as well.
Friendly to mount in bags for Road Kings
Warranty
Features
Extreme Level Performance
Its easy to use and very capable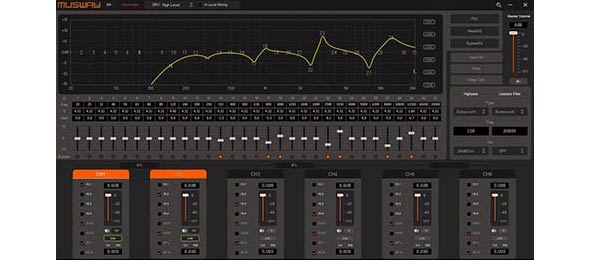 Remote Support Made Easy - So No Need to Worry About Setup
Once you get your M4+ installed you can always call us for guidance or a second opinion on your settings. We offer remote PC connection using TeamViewer, so we can actually see and control your PC remotely. We do not offer Mac support though.
Very Easy to Use
Rock Solid PC Interface
Powerful Onboard Amplifier
Easy to Install with Limited Connections
Supports Additional External Amplifiers
Harley Charging System Friendly
Flash Your Bike Yourself and Be Sure That the Job Is Done Right
Our flash tool rental kit ships with all of the parts required to flash any Harley touring bike radio from 2014 - current year. The kit ships with a return shipping label for your convenience. After you are finished with the tool simply drop it in the mail and receive a full refund for your $200 deposit.
$120.00 Value!
Specifications
4 x 135 Watts RMS @ 4/2 Ω or
2 x 270 Watts RMS @ 4 Ω bridged
6 x High Level Input
2 x AUX/RCA Input, 1 x Optical Input/Stereo
4 x Loudspeaker Output amplified
4 x Pre-Amplifier Output/RCA (configurable via DSP)
Dimensions: 220 x 44 x 150 mm, 8.66" x 1.73" x 5.9"
What's Included
Amplifier/DSP
DSP Software
Optional Plug & Play Wire Harnesses (signal input connections, speaker output connections, power connections and cables, saddlebag speaker harness with disconnects, acessory power input).
Optional Flash Tool
What's Not Included
Bread Pay
Take advantage of longer terms (up to 24 months) and lower payments. No impact on your credit score because there is no hard credit check. No prepayment penalties. Apply without any impact on your credit score.
Found Below Add To Cart Button or at Checkout
Snap Finance
Perfect way to pay within 100 days with no credit history required and no hard credit check. We cover the financing fees for you as long as you pay off your purchase within 100 days. So there are no hidden fees. Apply without any impact on your credit score.
100 Day same as cash financing
Shipping information
Most items ship in 24 hours (83% on average), some items do have a lead time due to manufacturing and tech oversight. All orders are processed and built in the order in which they are received. This allows our experts to review every order and check that it is correct for your specific bike. This means that sometimes you might have to wait a little longer to receive your order, but it's always worth it!
Returns information
Returns are easy, simply contact us for a returns number and send your item to our returns centre for fast processing. We'll get you a replacement or refund in a snap! You can find our refund policy here.
Lead Time
Some items have a longer lead time due to custom assemblies and requirements for tech oversight before shipping. We do our best to add estimated lead times directly to the product page for these items as well as inform our customers over the phone. All items in an order will generally ship together, so if you have one or more items that have longer lead times the other items in your order will usually ship out as soon as all parts are assembled and inspected. Please do not plan the ride of your life around the estimated shipping times of your stereo equipment :)
Easy Returns
Simply contact us for a return Authorization number and send your item to our returns center for fast processing. We'll get you a replacement or refund in a snap! You can find our return policy here.
your part is guaranteed to fit
We test fit every part we sell on actual bikes in order to verify fitment on each moden, generation, and in each possible location. You can be sure that if we have stated that a part fits your bike, that it will, or your money back. You will find model, year, and location fitment details on most product pages.
We thoroughly test every part we sell on a real bike
There are a lot of parts out there that we refuse to sell. If it's not up to our high standards, it never makes it to this website. We have parts that fit various budgets and levels of insanity, but all parts we carry are exceptional performers.
WE ARE FULLY AUTHORIZED RETAILERS FOR ALL BRANDS WE SELL
There are only a select few authorized online retailers for the brands we sell. Most all online retailers (even the really big ones) are not authorized at all! And the manufacturer's warranty is void before you even get your items.
ordering from american hard bag is 100% safe and secure
You can rest easy - your personal details are never shared, sold, or rented to anyone either.