Master Tool Kit
This kit is a collection of the most critical professional-grade tools and supplies needed to properly install a complete audio system. We handpicked each item in this kit to have everything you need. Several of the parts and tools in this kit are not easy to find, but all of them are critical for a top-notch installation.  We use the same tools and supplies here at American Hard Bag headquarters when we do our own installations.
This kit saves you hours of tracking all of the right parts down and ordering them from many different sources by putting them in one nice kit. Plus, we have included some items that are not easy to track down by themselves. 
Audio Grade Digital Multi Meter
The included digital multimeter is perfect for both a novice user or a professional. It automatically selects voltage or resistance for you and the correct range. This multimeter will allow you to quickly find and diagnose unexpected technical issues with ease and accuracy. The meter features a true RMS measuring ability, allowing you to measure audio devices working in real-time. When you need this feature, some good examples are measuring radio, signal output, amplifier power, or speaker impedance. These measurements can not be accomplished with a regular contractor's type of multimeter that you will find at your local hardware store.
Laboratory Grade Calibrated Microphone
This little gem is one of the least expensive components in this kit ($21) yet one of the most critical parts.  You can use the microphone with several smartphone apps (both paid and free. RTA (real-time analyzer) allows you to measure the speaker output of your audio system and have it displayed on a graph on your smartphone. Then you can use an Equalizer to cut or boost any frequency range as needed and see the result in real-time! The microphone comes with a calibration file that negates any frequency response deviations of the microphone itself. The result is highly accurate and very affordable.
4-Conductor Microphone Extension Cable
We included an extension cable for the calibrated microphone so that you can hold and look at your smartphone without disturbing the microphone position. The microphone can be hung from the ceiling or positioned on a stand, anything that keeps it steady and pointed in one place while you tune your bike.
Wire Ferrule Kit and Crimpers
You may not have seen one of these before, but it is an essential part of any professional installation. Wire ferrules are utilized when you insert a bare wire into an amplifier terminal or a spring-loaded speaker terminal. When using a wire ferrule at the end of a bare wire connection, you avoid exposed copper wire strands. Also, the wire ferrule doesn't add to the circumference of the wire joint like you might think. It reduces the size considerably.  The result is a much cleaner connection that doesn't degrade and fall apart over time. 
Abrasion Tape
This tape is not for connections. Its primary function is for bundling wires together and creating a nice abrasion-resistant layer around wire harnesses. This is the same type used in all European automobiles. Unlike electrical tape, it doesn't turn to slime in the heat. And if you ever need to take it off, it does not leave a slime on your wire harness. When bundling wires together in a bag or the fairing, this tape is the key to happiness.
Un-Insulated Speaker & Butt Connectors
When making wire-to-wire connections, there is an excellent alternative to solder. Solder is fine, and if you are used to making wire-to-wire connections that way, there is nothing wrong with that. However, Uninsulated butt connectors can be faster, more consistent, and more convenient.
Professional Grade Wire crimpers
Crimp connections are only worth doing if you have the correct crimp tool for the job. The type of crimpers you get from the hardware store is NOT the kind you need. So we included some actual professional-grade crimpers.
Flush Cutters, not Diagonal Cutters!
Cutting zip ties with diagonal cutters should be a crime, so we included actual flush cutters. Using the flat side of the cutters, you can trim off zip ties and not leave a razor-sharp edge to cut yourself.
Airtight Tool Box
Why put all of this goodness in a cardboard box? 
What's In The Box?:
Audio grade digital multimeter 

Calibrated RTA microphone 

4-conductor microphone extension cable

Professional grade wire crimpers

Professional grade wire stripers

Professional grade Flush cutters

Wire ferrule crimpers

Wire ferrule kit

One roll of cloth abrasion tape

Seamless uninsulated butt connectors for the wire-to-wire connections

Medium-sized female speaker spade terminals

Medium-sized male speaker terminals 

large-sized female speaker terminals

Large-sized male speaker terminals

2 feet of 1/4" heat shrink tube

2 feet of 3/16" heat shrink tube

Waterproof/Air-tight tool case
Warranty:


Shipping

This Item Ships to 

The United States

 

Items built to order have a build time of up to two weeks before shipping. Items that are not built to order (e.g. amplifiers, speakers, .etc) typically ship in 2 - 3 business days. Many of our speaker kits feature machined special parts and customized wire harnesses that are built to order. We process and build orders in the order that we receive them. This allows our experts to go over every order and check that your particular order is correct for your particular bike. This means sometimes you have to wait a little longer to get your order but it's always worth it! 

Once You Order Does Ship

You will receive an automated email with tracking information as soon as our shipping department creates a shipping label for your package.  

 
There are many more speakers, amplifiers, and kits to choose from than what you see here.
[powr-form-builder id=1f43a15c_1475460501]
| | |
| --- | --- |
| | Please allow 10 business days for your order to arrive if it is an item that is built to order. Items that are not built to order (e.g. amplifiers, speakers, .etc) typically ship the next business day.We process and build orders in the order that we receive them. This allows our experts to go over every order and check that your particular order is correct for your particular bike. This means sometimes you have to wait a little longer to get your order but it's always worth it!  |
| | Returns are easy, simply contact us for a returns number and send your item to our returns centre for fast processing. We'll get you a replacement or refund in a snap! You can find our refund policy here. |
Here are 5 great reasons to buy from us:
| | | |
| --- | --- | --- |
| | | Returns are easy, simply contact us for a return Authorization number and send your item to our returns center for fast processing. We'll get you a replacement or refund in a snap! You can find our refund policy here. |
| |   | Your part is guaranteed to fit. We test fit every part we sell on actual bikes in order to verify fitment on each model, generation, and in each possible location. You can be sure that if we have stated that a part fits your bike, that it will, or your money back. You will find model, year, and location fitment details on most product pages. |
| |   | Ordering from American Hard Bag is 100% safe and secure so you can rest easy. Your personal details are never shared, sold or rented to anyone either. |
| |   | We Thoroughly Test Every Part We Sell on a Real Bike. There are a lot of parts out there that we refuse to sell. If it's not up to our high standards, it never makes it to this website. We have parts that fit various budgets and levels of insanity, but all parts we carry are exceptional performers. |
| |   | Because We Are Fully Authorized Retailers for All Brands We Sell, Manufacturers Warranties Are 100% Valid. There are only a select few authorized online retailers for the brands that we sell. Most all online retailers (even the really big ones) are not authorized at all! And the manufacturer's warranty is void before you even get your items. |
We have 3 great financing options for you. Snap Financing, Installment Payments, and Split Pay. Learn more below.
Did you know - you can check your eligibility with all 3 options without negatively impacting your credit?
---
---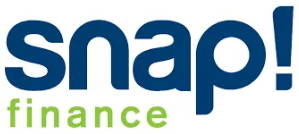 Get Approved
Could get approved for a lease purchase agreement of up to $3,000
*minimum finance $450

Instant Access
Get instant ACCESS to your financing upon approval

Shop
Get shopping! Snap lease-to-own financing lets you get what you need, when you need it.
100 days same as cash - $0 in fees if paid off within 100 days
No hidden fees
No interest
No application fee
No credit needed and no hard credit inquiry - Bad credit/No credit OK!
High credit limits
80% approval rate - All you need is a job making $1200 or more, be 18+ years old, and have an active checking account.
Snap doesn't offer traditional loans. Instead, we offer a consumer lease that allows you to finance the merchandise over 12-18 months of convenient payments. We also offer a 100-Day payment option, the best terms around. Need new tires for your car? Or new furniture for your growing family? Don't let bad credit stand in your way. Snap is your partner for fast and easy lease-purchase financing.
No Credit Needed refers to Snap's lease-purchase financing that considers more than just credit reports to determine approvals or denials. In fact, applications for Snap's lease-purchase financing aren't even reported to TransUnion, Equifax, or Experian. Our proprietary decisioning process allows us to look beyond bad credit, no credit, and bankruptcy to approve more applicants.
See what you qualify for without impacting your credit.

Shop Online
Select Pay Over Time with Bread at checkout
Choose your plan - Easy Installments or Split Pay with your card of choice
Get your item now and pay over time!
It's that easy!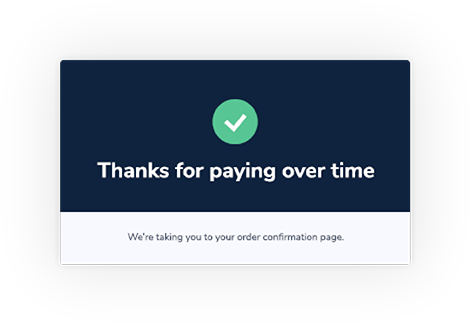 Simple transparent terms. No prepayment penalties. No deferred interest.
Applying is easy. All we need is a few pieces of information and you get a decision in seconds.
Sign up for automatic payments and have the flexibility to change your due date if needed.
Always know how much you'll pay. Easy equal installments. No surprises.
U.S. residents over the age of 18 (or over 19 for Alabama or Nebraska residents) are eligible, provided your identity can be verified.



Checking your rate does not affect your credit score as only a soft pull is completed to check your eligibility. If you choose to finance your purchase with Bread after your pre-approval, we will not perform a hard inquiry with any of the three major credit reporting agencies. Once you have taken out a loan, Bread may report repayment information about your account to the consumer reporting agencies, which may impact your credit score. We may also obtain your credit profile from smaller credit reporting agencies.

You will not be able to adjust your loan terms after you have checked out.

You can apply via the website of any participating online store. When you're ready to buy, click on Bread's® financing button to get your rate in seconds. If you pre-qualify, you will be presented with the financing terms offered and sample payment amounts. Add the item to the retailer's shopping cart and choose Bread® or "Pay Over Time" as your preferred method of payment when you check out.
Call American Hard Bag and we can help to see if Snap or Bread Finance is right for you!
1(888) 311-0016